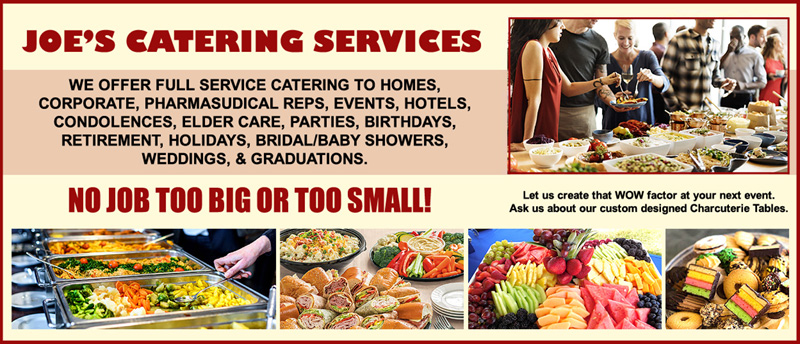 REASONS WHY JOE'S IS YOUR FIRST CHOICE FOR CATERING:
Stress Free: Check that box off your To Do List by allowing us to do all the cooking, delivering and setting up of the food for you and allowing for easy clean up.
Time Saving: Shopping, Prepping, Cooking, Serving and clean up take up precious time where you can be planning other details to make your event special.
Versatile Menu: Our menu selection has well over 100 quality items to choose from, fresh, delicious, made from scratch infused with the same love and care you would take in feeding friends and family. We offer something to meet every dietary need.
Attention to Detail: We will make YOU shine! Our catering specialist will sit with you and help plan an event everyone will be sure to remember. You will feel confident knowing that every little detail with be taken care of.
Make a Statement: From Start to Finish we will help create a landscape of not only delicious tasting food, but an inviting display sure to make your guest be first in line to eat.
Budget Friendly: We know how expensive having an event can be, that's why we offer great quality, delicious, homemade food and an affordable price. No extra costs or hidden fees. We work with you to meet your budgeting needs.
FLEXABILITY: Our mission is not to cookie cutter your event, every event is different with a different set of needs, therefore we do not offer "pre-packaged" menu options or charge you by the person.   All our menu items can be custom tailored to meet all your needs and expectations.
While we like to plan on having 24 hours notice for catering jobs, we understand there are times when the unexpected happens or last minute meeting pops up, therefore we will do our best to accommodate these situations.
BREAKFAST CATERING
Beverages:
Coffee & Tea Service…comes with Regular Fresh Brewed Coffee, Hot Water Vessel, Assort Tea Bags, Milk, assorted Sugars, and Cups & Stirrers

Assorted Juices: Bottles of Orange, Apple, Grapefruit, Cranberry

Bottled Water

Cans of Assorted Soda
Cold Selections:   Your choice of 1 or more…..
Danish, Donuts, Bagels (with butter & cream cheese)
Croissants, Fresh Baked Muffins, Breakfast Energy Bars, Yogurt Cups, Hard Boiled Eggs and Fresh Fruit Platters
Hot Selections:
Breakfast Sandwiches…..served on round rolls, bagels, or wraps with ketchup, mayo, salt & pepper on the side

Egg & Cheese

Bacon, Egg & Cheese

Sausage, Egg & Cheese

Pork Roll, Egg & Cheese

Following are served in half or full pans:

Scrambled Eggs

Home Fries

Hash Browns

Breakfast Sausage

Bacon

French toast
Healthier Options available with notice:
Scrambled Egg Substitute, Turkey Bacon, Turkey Sausage, Whole Wheat Bagels, Bran Muffins,
Catering events come with paper goods such as plates, napkins, cups, serving utensils and cutlery for a small upcharge. Racks & Sternos are available for an additional charge.
LUNCH CATERING
Gourmet Cold Sandwiches:  We use only Boars Head Premium Quality Deli Meats & Cheeses, Homemade Chicken, Tuna, Egg Salads, Chicken (Grilled or Breaded Cutlets)
A Scrumptious Selection of Assorted Sandwiches served on Kaiser Rolls or Sliced Bread freshly prepared and served on sturdy platters for easy serving. Sandwiches all come dressed with Lettuce and Tomato with Onions, Mayo, Mustard and Oil/Vinegar on the side. We also can include a variety of Vegetarian & Gluten Free Options to accommodate all your guests.
A Beautiful Array of Gourmet Wraps served on White, Whole Wheat, Spinach and Sundried Tomato Wraps uniquely made with Juicy Strips of Grilled Chicken and Premium Ingredients to put an Upscale Twist on an Old Classic.
Platters of Assorted Sloppy Joe's served Triple Decker Style on Jewish Rye with Homemade Cole Slaw and Russian Dressing (sure to amaze your guests)
Deli Cold Cut Platters include Ham, Turkey, Salami, Roast Beef, Provolone Cheese, Yellow & White American Cheese served with Rolls and Rye Bread.
Super Party Subs Create that WOW Factor
Fresh Baked Specialty Sub Bread Baked in 3', 4' 5' or 6' piled high with Boars Head Deli Meats & Cheeses with Lettuce, Tomato, Onions & Seasoning with mayo, mustard, oil & Vinegar on the side
Amazing Salad Bowls Homemade by Mom herself prepared Daily with fresh simple ingredients:
Macaroni Salad, Potato Salad, Cole Slaw, Pasta Salad, Tomato Mozzarella Salad and Jeff's Famous Broccoli Slaw (Salads are available in a variety of sizes)
Gourmet Garden Salads: Available in ½ or Full Trays or Bowls. All Salads are served with the appropriate Dressings on the side.
Spring Mix Garden Salad with Shredded Carrots, Tomatoes and Cucumbers
Caesar Salad with Crisp Romaine Lettuce, Homemade Garlic Croutons, Freshly Grated Parmesan Cheese and Real Bacon Bits served with a Creamy Caesar Dressing can be made with Warm Grilled Chicken also
(Insert all the other salads from the menu too here)
Market Boxed Lunches Boxes will be marked with Sandwich Type for easy distribution.
The Market Classic Hero Box: ½ Deli Hero with lettuce & Tomato, Bag of Chips, Fresh Baked Cookie, Can of Soda & Utensils $7 per box
GOURMET HOT LUNCHES
Hot Sub Sandwiches
An Assortment to include: Beef and Chicken Philly Cheese Steaks, Chicken, Meatball, Sausage and Eggplant Parmigiana, Chicken Specials, Corn beef and Pastrami Rueben's, Kielbasa & Kraut, Sausage Peppers & Onions, Momma's Meatloaf & Gravy, Hot Roast Beef & Turkey with Gravy, Italian Hot Dogs
Check out our Large Variety of Gourmet Pizza's: a great Budget Friendly way to feed a Crowd
Add-on Extras is all in the details:
Pickle Tray

Bowls of Chips

Homemade Cookie Platters

Homemade Brownie Platters

Petite Italian Pastries

Cans of Soda, Bottled Soda, Spring Water, Ice Tea

Chef Inspired Dinner Choices
Half or Full Chafing Trays All Meals Start from Scratch with Fresh Quality Ingredients and Never Frozen
APPETIZERS
Buffalo wings, Chicken Fingers, French Fries, Mozzarella Sticks, Garlic Knots, Shrimp Cocktail Platters, Fresh Vegetable Crudités Platters, Antipasto Platters, Fresh Mozzarella, Tomato & Roasted Peppers Platter, Bruscetta and Italian Crisps Platter, Gourmet Cheese & Cracker Platter, Nick's Famous Stuffed Antipasto Bread Baked Fresh (cut up on a Platter) with marinara sauce
Add Portion of catering menu from Chicken Dishes down thru and including vegetable choices include rice pilaf for same prices
Add Pizza Menu after lunch selection
DESSERT – The Finishing Touch
Homemade Tiramisu

Homemade Rice Pudding

10" Round New York Style Cheese Cake

10" Round Carrot Cake

Platters of Cookies, Brownies, Cannolis, Italian Pastries

Homemade Colossal Cupcakes

By Special Request Only: Sheet Cakes
Please Note: Prices are subject to change without notice.
Please call us to verify costs.